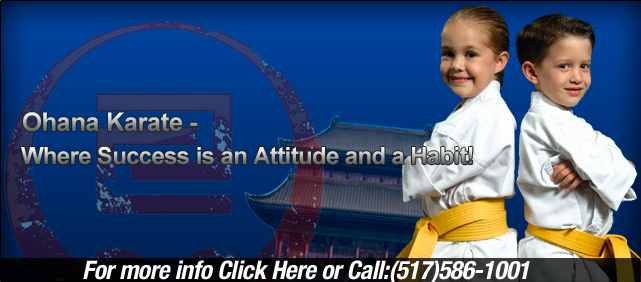 Ohana Karate Programs
We have programs for all experience levels and everyone ages 3-103!
"Preschool" Martial Arts and Behavior Development Program (for ages 3-6) In this safe, professionally designed course we "accelerate" your preschoolers life and get them ahead of their peers for Kindergarten and First Grade! Click here for more details.
"Junior / Teen" Martial Arts and Character Development Program (for ages 6-9 and 10-14) This is ouir "main" program where young people develop and become "black belts" in karate, home, sports, school and life! Click here for more details.
"Adult" Traditional Goju Ryu Karatedo Program (for ages 15 and up) Karate is even better for adults than children. We have the capacity mentally, physically, intellectually, and emotionally to truly learn and develop the full power of this ancient and valuable art. Click here for more details.

"Leadership" and Success Skills Program (by application and invitation only) This is our highest level program. Consider this "graduate level" leadership, social and success skills. Click here for more details on this program and the application process.


MELT Method (for ages ages) The MELT Method is a breakthrough self-treatment system that restores the supportiveness of the body's connective tissue to eliminate chronic pain, improve performance, and decrease the accumulated stress caused by repetitive postures and movements of everyday living. For more about this exciting new technology CLICK HERE.


So, what are you waiting for? Find out "how to get started" by clicking here!
Follow Us:


Join us on the internet!
Join us on the web by clicking the Facebook, Twitter, YouTube or Goggle+ icons above.